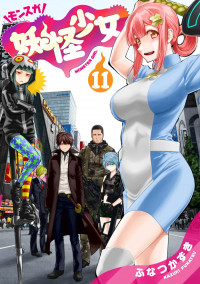 Status:
Ongoing, is coming next...

Rank:
177th, it has 182,953 monthly views.
Rating:
Average 4.73 / 5 out of 139 total votes.
You're more than welcome to Edit the info or Upload a manga chapter for share. You can also keep track this manga by subscribe the feed or Bookmark it.
YOUKAI SHOUJO - MONSUGA Manga
Read Youkai Shoujo - Monsuga Online
---
From MangaHelpers:

Part time worker at a general store in Akiba, Yatsuki encounters a beautiful girl named Roka when she lands on his face in the middle of a park. Much to his surprise, he's able to become friends with this beautiful girl... but she hides a terrible secret that Yatsuki will find out soon enough. With other beautiful girls that surround him, including his little sister Nanao and the maid cafe girl Moru, Yatsuki will have to fight to protect the supernatural girls around him. [DrCoke]

-----------
Nishizuru Yakki is a permanent part-timer, regular customer in a maid-cafe, and 20-year-old virgin. What makes him special is his ability to see ghosts. But ghosts are not monsters, they are mostly harmless. At least our hero can live by simply ignoring them. Yakki never believed in monsters until the day when he meets the girl named Rokka. This cheerful girl appears to have a secret...
The series Youkai Shoujo - Monsuga has been licensed, it is not available in Manga Fox.
Expand All
---
Volume 07
Chapter 61 - 66
Volume 06
Chapter 50 - 60
Volume 05
Chapter 40 - 49
Volume 04
Chapter 30 - 39
Volume 03
Chapter 20 - 29
Volume Not Available
Chapter 46.5 - 47.1