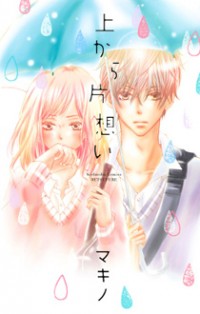 Rank:
3473rd, it has 20,523 monthly views.
Rating:
Average 4.55 / 5 out of 217 total votes.
You're more than welcome to Edit the info or Upload a manga chapter for share. You can also keep track this manga by subscribe the feed or Bookmark it.
UE KARA KATAOMOI Manga
スウィート☆レッスン; 上から片想い; 君ばっかりの夏; 愛のしるし (マキノ)
Read Ue kara Kataomoi Online
---
1. Ue kara Kataomoi
From Chibi Manga:
"if you won't to be exposed...you better do what I say."

Aya is suffering a one sided love with the cool Nikaido. but then he happen to know her secret. In order to shut her mouth, Nikaido tell her his conditions....

From Sweet Indulgent:

Aya accidentally found out who the cool guy, Nikaidou's unrequited love is. In exchange for keeping quiet, Nikaidou will follow any orders given.

"If you don't want your secret revealed... listen to my orders."

Venture into the obstinate girl and a cool guy's secret relationship and 3 other oneshots in the book.

2. Ai no Shirushi

3. Kimi Bakkari no Natsu

4. Sweet Lesson
The series Ue kara Kataomoi has been licensed, it is not available in Manga Fox.