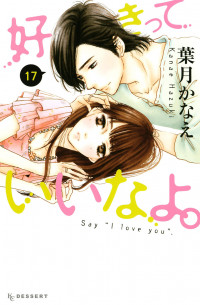 Status:
Ongoing, is coming next...

Rank:
173rd, it has 201,403 monthly views.
Rating:
Average 4.86 / 5 out of 2282 total votes.
You're more than welcome to Edit the info or Upload a manga chapter for share. You can also keep track this manga by subscribe the feed or Bookmark it.
SUKI TTE II NA YO. Manga
Watch Suki tte Ii na yo. Online?
---
Mei Tachibana has spent her 16 years without making either boyfriend or friends. One day, she drop-kicks a popular boy in school, Yamato Kurosawa, because of a misunderstanding but for some reason it seems that he takes a liking to her and one-sidedly claims that they're friends. Furthermore, he not only protects Mei from a stalker, he does it with a kiss…?!!
The series Suki tte Ii na yo. has been licensed, it is not available in Manga Fox.
Expand All
---
Volume 13
Chapter 49 - 51
Volume 12
Chapter 45 - 48
Volume 11
Chapter 41 - 44
Volume 10
Chapter 37 - 40
Volume 09
Chapter 33 - 36
Volume 08
Chapter 29 - 32
Volume 07
Chapter 25 - 28
Volume 06
Chapter 21 - 24
Volume 05
Chapter 17 - 20
Volume 04
Chapter 13 - 16