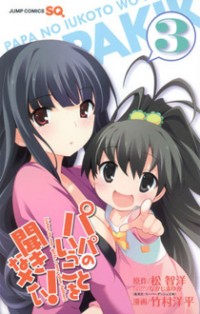 Rank:
1500th, it has 39,428 monthly views.
Rating:
Average 4.80 / 5 out of 185 total votes.
You're more than welcome to Edit the info or Upload a manga chapter for share. You can also keep track this manga by subscribe the feed or Bookmark it.
PAPA NO IU KOTO O KIKINASAI! Manga
---
The story explains the day-to-day of a college freshman, Yūta, just starting a new life in the School of Literature Department of Tama University. While he grew up with his sister, he left and lived by himself when she got married with a man who had two daughters from previous marriages. He tried to distance himself from that family and so he moved out to live on his own. About 3 years later he was asked by his sister to visit and babysit the girls which suddenly turned his life upside down when the girls' parents went missing. He now has to live with the three daughters of his sister; with which two (from a previous marriage) are not related by blood: a tsundere (Sora, 14 years), a little demon (Miu, 10 years) and a small girl (Hina、3 years). In a six tatami mat size room.
The series Papa no Iu Koto o Kikinasai! has been licensed, it is not available in Manga Fox.
Expand All
---
Volume 03
Chapter 10 - 12
Volume Not Available
Chapter 1 - 9