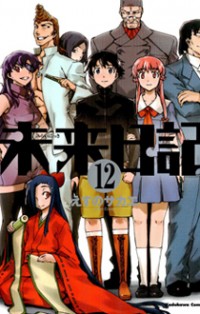 Rank:
608th, it has 89,935 monthly views.
Rating:
Average 4.78 / 5 out of 815 total votes.
You're more than welcome to Edit the info or Upload a manga chapter for share. You can also keep track this manga by subscribe the feed or Bookmark it.
MIRAI NIKKI Manga
| Released: | Author(s): | Artist(s): | Genre(s): |
| --- | --- | --- | --- |
| 2006 | Esuno Sakae | Esuno Sakae | Action, Drama, Horror, Mature, Mystery, Psychological, Romance, School Life, Shounen, Supernatural, Tragedy |
Read Mirai Nikki Online
Watch Mirai Nikki Online?
---
Second year middle school & 14 year old, Amano Yukiteru, is a boy who has a problem with making friends. He keeps a diary on his cell phone of the things he witnesses, believing himself to be a bystander to the world's happenings.

Yuki's only salvation from solitude are his imaginary friends, one of whom turns out to be the not so imaginary Deus Ex Machina, an apparent lord of time and space.

Deus tells Yukiteru he's planning a 'fun game' and upgrades his cell phone to a new model which predicts the future. Yuki is quick to abuse his new power but is brought back to earth when the diary predicts his own death.

After managing to fend off his would be murderer, Yuki discovers Deus's game involves himself and eleven others with precognative diaries to fight to the death for an incredible prize going to the last man standing.

Outgunned and desperate to survive, Yuki teams up with Gasai Yuno, his psychotic stalker who'd do anything from killing to dying for him.

A spectacular story full of twists and double crosses ensues as the twelve diary holders scramble to find each others' identities while keeping themselves alive.
The series Mirai Nikki has been licensed, it is not available in Manga Fox.
Expand All
MIRAI NIKKI Chapters
---
Volume 12
Chapter 55 - 59
Volume 11
Chapter 51 - 54
Volume 10
Chapter 45 - 50
Volume 09
Chapter 39 - 44
Volume 08
Chapter 33 - 38
Volume 07
Chapter 27 - 32
Volume 06
Chapter 22 - 26
Volume 05
Chapter 19 - 21
Volume 04
Chapter 14 - 18
Volume 01
Chapter 0 - 4.2