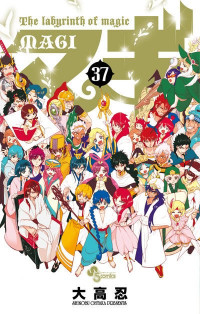 Status:
Ongoing, is coming next...

Rank:
25th, it has 620,166 monthly views.
Rating:
Average 4.84 / 5 out of 1389 total votes.
You're more than welcome to Edit the info or Upload a manga chapter for share. You can also keep track this manga by subscribe the feed or Bookmark it.
MAGI - LABYRINTH OF MAGIC Manga
Watch Magi - Labyrinth of Magic Online?
---
Deep within the deserts lie the mysterious Dungeons, vast stores of riches open for the taking by anyone lucky enough to find them and brave enough to venture into the depths from where few have ever returned. Plucky young adventurer Aladdin means to find the Dungeons and their riches, but Aladdin may be just as mysterious as the treasures he seeks. Together with the genie Ugo and his friend, Alibaba, Aladdin sets out to find his fortune in the depths of the endless dunes…
The series Magi - Labyrinth of Magic has been licensed, it is not available in Manga Fox.
Expand All
---
Volume TBD
Chapter 259 - 294
Volume 26
Chapter 249 - 258
Volume 25
Chapter 239 - 248
Volume 24
Chapter 229 - 238
Volume 23
Chapter 219 - 228
Volume 22
Chapter 209 - 218
Volume 21
Chapter 199 - 208
Volume 20
Chapter 189 - 198.5
Volume 19
Chapter 179 - 188
Volume 18
Chapter 169 - 178
Volume 17
Chapter 159 - 168
Volume 16
Chapter 149 - 158
Volume 15
Chapter 139 - 148
Volume 14
Chapter 129 - 138
Volume 13
Chapter 119 - 128
Volume 12
Chapter 109 - 118
Volume 11
Chapter 99 - 108
Volume 10
Chapter 89 - 98.5
Volume 09
Chapter 79 - 88.5
Volume 08
Chapter 69 - 78
Volume 07
Chapter 59 - 68
Volume 06
Chapter 49 - 58
Volume 05
Chapter 38 - 48
Volume 04
Chapter 28 - 37
Volume 03
Chapter 18 - 27