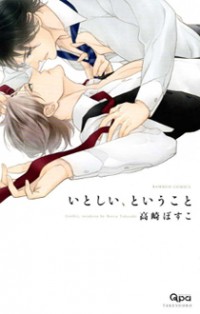 Rank:
3443rd, it has 17,388 monthly views.
Rating:
Average 4.45 / 5 out of 135 total votes.
You're more than welcome to Edit the info or Upload a manga chapter for share. You can also keep track this manga by subscribe the feed or Bookmark it.
ITOSHII, TO IU KOTO Manga
いとしい、ということ; 可愛就是這麼一回事; 愛情、這東西; 所謂愛情; Itoshii, toiukoto
Read Itoshii, to Iu Koto Online
---
From Manga-Updates:

1-3) To Hold Someone Dear
Kayama Tomoaki is a handsome and reserved employee of a major company. One day, the efficient and reliable junior on his team, Saiki Keiichi, gets sick and Kayama goes to visit him at home. At work, Saiki is always stylish and nearly perfect, but unexpectedly, at home he is the complete opposite! The events of that evening change the superior and subordinate relationship between the two. Kayama is scared of loss and never lets strangers get close to him but when he realizes that Saiki only has eyes for him, his feelings waver...

4) Summer Contrail

5) Weekend Melancholy

6) Passion Carved by the Tyrant
The series Itoshii, to Iu Koto has been licensed, it is not available in Manga Fox.