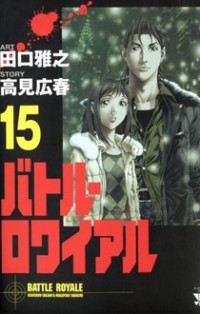 Rank:
523rd, it has 102,985 monthly views.
Rating:
Average 4.75 / 5 out of 378 total votes.
You're more than welcome to Edit the info or Upload a manga chapter for share. You can also keep track this manga by subscribe the feed or Bookmark it.
BATTLE ROYALE Manga
バトル・ロワイアル
Read Battle Royale Online
---
From Tokyopop:
In the future, random Jr. High School classes are chosen to compete in a game called Battle Royale. The rules: only one student can survive after 3 days on an island or else they all perish. Weapons are handed out and each student is sent out into the field alone and unprepared for the horror that awaits them. The classmates turn upon themselves in a battle for survival, treaties are made and broken, and former friends become foes as the relentless countdown continues. Amid the betrayals and rising body count, two classmates confess their love for each other and swear to survive this deadly game together.
The series Battle Royale has been licensed, it is not available in Manga Fox.
Expand All
BATTLE ROYALE Chapters
---
Volume 15
Chapter 112 - 119
Volume 14
Chapter 104 - 111
Volume 13
Chapter 96 - 103
Volume 12
Chapter 88 - 95
Volume 11
Chapter 80 - 87
Volume 10
Chapter 72 - 79
Volume 09
Chapter 64 - 71
Volume 08
Chapter 56 - 63
Volume 07
Chapter 48 - 55
Volume 06
Chapter 40 - 47
Volume 05
Chapter 33 - 39
Volume 04
Chapter 25 - 32
Volume 03
Chapter 17 - 24