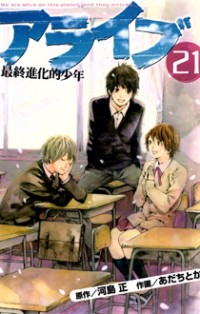 Rank:
1427th, it has 40,426 monthly views.
Rating:
Average 4.84 / 5 out of 402 total votes.
You're more than welcome to Edit the info or Upload a manga chapter for share. You can also keep track this manga by subscribe the feed or Bookmark it.
ALIVE - THE FINAL EVOLUTION Manga
Read Alive - The Final Evolution Online
---
From Del Rey:
A strange virus is making its way around the globe, causing its victims to commit suicide. In less than a week, it's become a lethal pandemic. But for a unique few, it does just the opposite... They evolve and become "Power Users."

Taisuke Kanou and his best friend Hirose both become power users, but Hirose sides with Katsumata, a strange man with no regard for human life.

The story follows Kanou as he discovers the secret behind his powers, encounters reporters, other power users, and even the military, as he tries to get his friends back.
The series Alive - The Final Evolution has been licensed, it is not available in Manga Fox.
Expand All
---
Volume 21
Chapter 79 - 82
Volume 20
Chapter 75 - 78
Volume 19
Chapter 71 - 74
Volume 18
Chapter 67 - 70
Volume 17
Chapter 63 - 66
Volume 16
Chapter 59 - 62
Volume 15
Chapter 55 - 58
Volume 14
Chapter 51 - 54
Volume 13
Chapter 47 - 50
Volume 12
Chapter 43 - 46
Volume 11
Chapter 39 - 42
Volume 10
Chapter 35.5 - 38
Volume 09
Chapter 32 - 35
Volume 08
Chapter 28 - 31
Volume 07
Chapter 24 - 27
Volume 06
Chapter 20 - 23
Volume 05
Chapter 16 - 19
Volume 04
Chapter 12 - 15