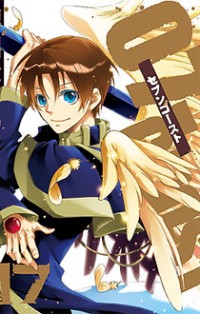 Rank:
549th, it has 85,814 monthly views.
Rating:
Average 4.91 / 5 out of 1290 total votes.
You're more than welcome to Edit the info or Upload a manga chapter for share. You can also keep track this manga by subscribe the feed or Bookmark it.
07-GHOST Manga
Watch 07-Ghost Online?
---
Set in a Gothic fantasy world, this is the story of Teito Klein, an orphaned slave who becomes top military academy student. However, an unexpected turn of events left him pursued by the forces of the Barsburg Empire, because of his exceptional ability to use a form of magic called Zaiphon. Now an escaping convict, Teito's sheltered by the church in District 7.Because of the 7th District's law of sanctuary, as long as Teito stays in the church, the army cannot arrest him. Here, he discovered many mysteries surrounding himself, the church, and the Empire itself. The fact that he might be connected to a dethroned king and the mystical stone of god, 'The Eye of Mikhael' made him the target of the empire more than ever.
The series 07-Ghost has been licensed, it is not available in Manga Fox.
Expand All
---
Volume 17
Chapter 96 - 99
Volume 16
Chapter 91 - 95
Volume 15
Chapter 85 - 90
Volume 14
Chapter 79 - 84
Volume 13
Chapter 73 - 78
Volume 12
Chapter 68 - 72
Volume 11
Chapter 62 - 67
Volume 10
Chapter 55 - 61
Volume 09
Chapter 48 - 54.5
Volume 08
Chapter 42 - 47
Volume 07
Chapter 36 - 41
Volume 06
Chapter 30 - 35
Volume 05
Chapter 24 - 29
Volume 04
Chapter 18 - 23.5
Volume 03
Chapter 12 - 17