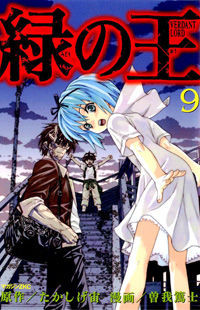 Status:
Ongoing, is coming next...

Rank:
801st, it has 71,274 monthly views.
Rating:
Average 4.82 / 5 out of 96 total votes.
You're more than welcome to Edit the info or Upload a manga chapter for share. You can also keep track this manga by subscribe the feed or Bookmark it.
VERDANT LORD Manga
Read Verdant Lord Online
---
Set in the near future where Mother Nature has decided to fight back against all of the human encroachment. It has your standard apocalyptic scenario, but we're right in the middle of the apocalypse actually happening, rather than the aftermath.
Vines and foliage entangle cities, as large wooden mech-like creatures called Arethusa (named after one of the mythical Greek Hesperides that tended the gardens in a remote corner of the world) rampage through cities.
Our main character is Souma Shin, a punk kid out of Japan. We start off with him coming to visit his twin (?) brother Ken. All hell breaks loose as Shin finds a group of small kids being used for military purposes, and tries to save them in the confusion created by an Arethusa invading the compound.
taken from zindryr
The series Verdant Lord has been licensed, it is not available in Manga Fox.
Expand All
VERDANT LORD Chapters
---
Volume 08
Chapter 47 - 50
Volume 07
Chapter 41 - 46
Volume 06
Chapter 33 - 40
Volume 05
Chapter 26 - 32.5
Volume 04
Chapter 23 - 25
Volume 03
Chapter 12 - 22