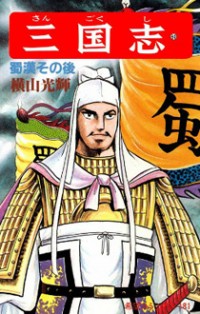 Status:
Ongoing, is coming next...

Rank:
1640th, it has 35,309 monthly views.
Rating:
Average 4.43 / 5 out of 37 total votes.
You're more than welcome to Edit the info or Upload a manga chapter for share. You can also keep track this manga by subscribe the feed or Bookmark it.
SANGOKUSHI Manga
Read Sangokushi Online
---
From the story "Romance of the Three Kingdoms"

It was during the final days of the year 200 AD, when the Han dynasty saw its end. Its demise ushered in a new era of chaos, brought on by several regional lords vying to rule China. There were those who sought absolute power as well as those who fought for justice. Some simply fought for the sake of their beliefs. Many would rise and fall in their attempts to dominate the land... and here are their stories.
The series Sangokushi has been licensed, it is not available in Manga Fox.
Expand All
---
Volume 59
Chapter 418 - 427
Volume 58
Chapter 410 - 417
Volume 57
Chapter 401 - 409
Volume 56
Chapter 392 - 400
Volume 55
Chapter 383 - 391
Volume 54
Chapter 374 - 382
Volume 53
Chapter 367 - 373
Volume 52
Chapter 357 - 366
Volume 51
Chapter 351 - 356
Volume 50
Chapter 343 - 350
Volume 49
Chapter 335 - 342
Volume 48
Chapter 327 - 334
Volume 47
Chapter 319 - 326
Volume 46
Chapter 313 - 318
Volume 45
Chapter 305 - 312
Volume 44
Chapter 298 - 304
Volume 43
Chapter 288 - 297
Volume 42
Chapter 276 - 287
Volume 41
Chapter 266 - 275
Volume 40
Chapter 258 - 265
Volume 39
Chapter 254 - 257
Volume 38
Chapter 242 - 253
Volume 37
Chapter 233 - 241
Volume 36
Chapter 228 - 232
Volume 35
Chapter 219 - 227
Volume 34
Chapter 210 - 218
Volume 33
Chapter 202 - 209
Volume 32
Chapter 193 - 201
Volume 31
Chapter 185 - 192
Volume 30
Chapter 177 - 184
Volume 29
Chapter 168 - 176
Volume 28
Chapter 161 - 167
Volume 27
Chapter 153 - 160
Volume 26
Chapter 144 - 152
Volume 05
Chapter 0.1 - 0.2