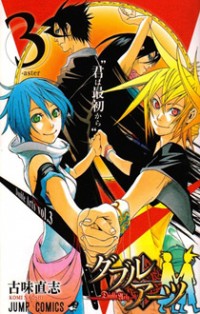 Rank:
2731st, it has 21,805 monthly views.
Rating:
Average 4.91 / 5 out of 547 total votes.
You're more than welcome to Edit the info or Upload a manga chapter for share. You can also keep track this manga by subscribe the feed or Bookmark it.
DOUBLE ARTS Manga
ダブルアーツ; 双生轮舞
Read Double Arts Online
---
A boy and a girl are forced to join hands for all eternity!? In a land ravaged by an epidemic known as "Troy", the only people with healing arts capable of stopping the seizures caused by the disease are the Sisters. Although they have a high resistance to the disease, they are searching for a person who is truly immune, if they exist, so that they can find a cure. The main character is Sister Elraine, one of the Sisters who becomes infected with Troy. But, when she touches Kiri, a seemingly ordinary boy, her seizures stop. Could he be the one!?

From Wikipedia:
Due to its low weekly ratings in the magazine, Double Arts was truncated and ended at chapter 23 during early September 2008, in the 41st issue of Weekly Sh?nen Jump.
The series Double Arts has been licensed, it is not available in Manga Fox.