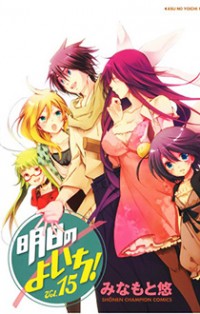 Rank:
436th, it has 102,696 monthly views.
Rating:
Average 4.64 / 5 out of 444 total votes.
You're more than welcome to Edit the info or Upload a manga chapter for share. You can also keep track this manga by subscribe the feed or Bookmark it.
ASU NO YOICHI! Manga
Read Asu no Yoichi! Online
Watch Asu no Yoichi! Online?
---
A boy swordsman, Yoichi and his father stays in mountain training for his descent from the mountain. Yoichi comes to the city to lodge and stay with 4 beautiful sisters. A new more severe "training" regiment awaits him.

From Wiki:
After learning martial arts in the mountains for 17 years under his father's teachings, Yoichi Karasuma's father orders Yoichi to continue his training to strengthen his spirit with the Ikaruga family in the city, as he has nothing left to teach him. The current head of the Ukiha Divine Wind Style Swordplay school of martial arts, Ibuki Ikaruga, and her siblings gradually accept Yoichi as a freeloader at their dojo. In addition to domestic problems, Yoichi deals with Washizu's jealousy of Ibuki and Yoichi's supposed relationship and his school life.
The series Asu no Yoichi! has been licensed, it is not available in Manga Fox.
Expand All
---
Volume 15
Chapter 55 - 58
Volume 14
Chapter 51 - 54
Volume 13
Chapter 47 - 50
Volume 12
Chapter 43 - 46
Volume 11
Chapter 39 - 42
Volume 10
Chapter 35 - 38
Volume 09
Chapter 32 - 37
Volume 08
Chapter 28 - 31.5
Volume 07
Chapter 24 - 27
Volume 06
Chapter 20 - 23
Volume 05
Chapter 17 - 19.6
Volume 04
Chapter 13 - 16